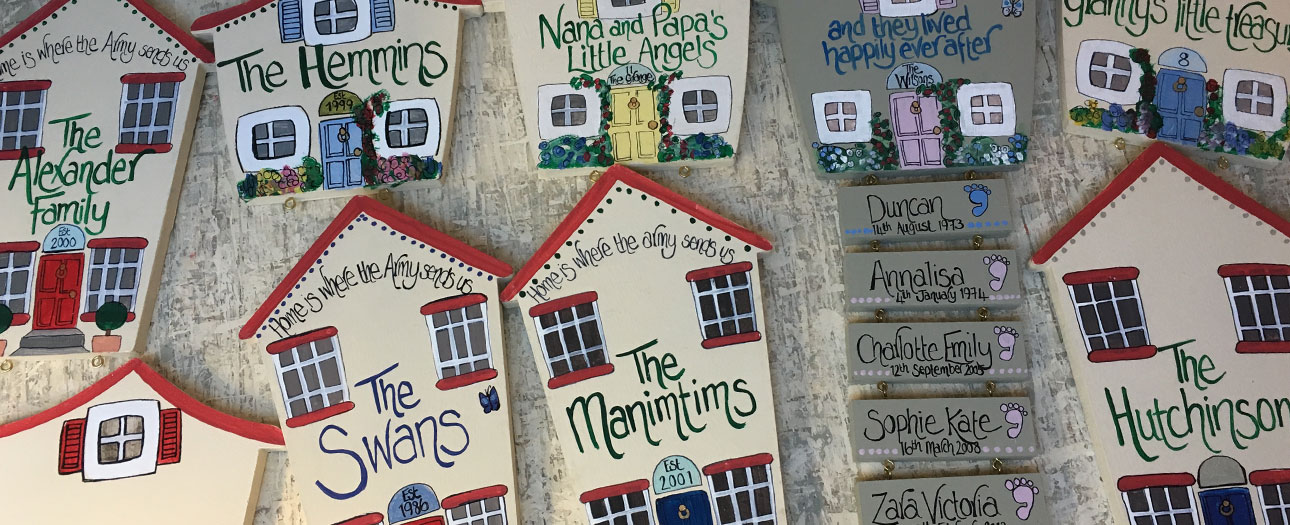 SORRY ALL – OUT OF STOCK




I'll be 

selling blocks periodically so you can keep your house updated,
but I'm offline for the time being – watch Facebook for updates


 https://www.facebook.com/HomeIsSigns
Home is where the story begins…
You may choose 'Home is where the RAF / Army / Navy sends us' but if that's not your thing, how about "And they lived happily ever after"? it's totally personal to each customer, you choose what your story says. Your house can be decorated with your family name… The Smiths, Team Wilson, The Peters Family. We paint special dates or a house name over the door too.
Below your hand-painted house there are little blocks.
Use them for special dates, special people, special memories. You can keep your record up to date forever by adding more blocks as life's rich pattern continues! You can add details of when your children were born, when pets joined the family, Operational tours, special dates…whatever you like, meaning your house is totally personal to you. You can order a extra blocks online and all you need to do is hook it onto the blocks you already have… simple.
Sorry - no houses at present
Choose Cottage shape (Georgian sold out) and customise it.
Add all the blocks you want.
Wait for delivery!